Careers
Our learners-centred careers software provides access to career opportunities and events to help learners develop their skills. They will also be able to track their placements online with tools and dashboards to show progress and any areas for improvement.
Collsys tracks all 8 of the Gatsby benchmarks to provide reports showing progress towards each benchmark to make sure that the careers programme is easily managed.
With the ability to set up one-to-one careers meetings with students, rate skills and manage end destinations, Collsys directs students' entire careers journey effortlessly.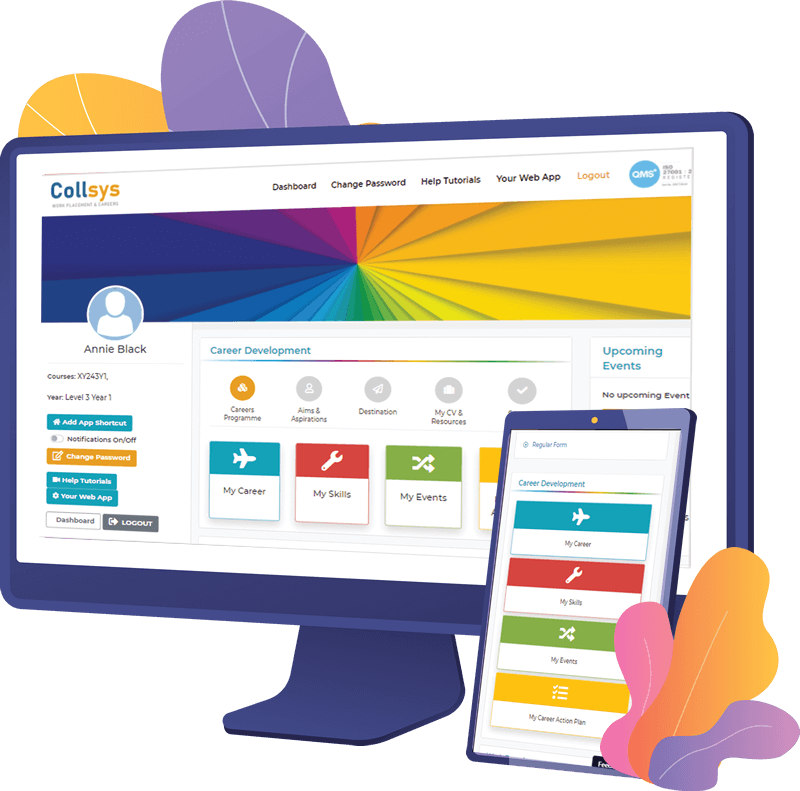 Key Features & Benefits
For Colleges
A flexible and innovative system helping your college to achieve Gatsby Benchmarks.
Complete and review learners' career action plans to make sure they complete their SMART targets.
Complete a series of aptitude tests to rate learner skills.
All careers-related skills and development are in one place thus ensuring simplicity to the users of the system.
Virtual careers plan management - manage all your virtual careers activity with our online content management system.
Helps to develop learners' aspirations and goals.
Allows the management of career events and one-to-one appointments.
For Learners
Personalised action plan.
Identifies personal strengths and areas for improvement.
Rates individual skill set.
Explore local labour market trends.
Plan intended and actual career destinations.
Detailed log of placements and career activities.
Can book into one-to-one meetings.
Seamless link to work placement programmes.
Gatsby Benchmarks
The Gatsby Benchmarks are a framework of 8 guidelines that define the best careers provision. We can help educational institutes achieve the Gatsby benchmarks.
Gatsby Benchmarks
Meeting Gatsby Benchmark
1. A Stable Careers Programme
We offer a detailed careers plan which can be viewed by learners, college staff, employers and parents/carers. Our system offers flexible report generation from work experience and placement information to business KPIs as required.
2. Learning from Labour Market Information(LMI)
We're able to link to recognised LMI data sets that may already exist in organisations such as "LMI for all", to help students understand opportunities in the world of work.
3. Addressing the Needs of Each Pupil
Each learner has their own individual personalised account with accurate and up-to-date records of all career and placement activity.
4. Linking Curriculum Learning to Careers
We provide a link between classroom studies and the working environment. Our custom-built careers portal will help learners create the optimal aid in mapping their career goals, building confidence and encouraging employer engagement. By recording every step of their career journey, learners can monitor their development as they strive to realise their potential.
5. Encounters with Employers and Employees
Our administration systems maintain accurate records of multiple activities and encounters between learners and employers. These can be categorised and reported on by type, whether they are large careers events or smaller 1:1 meetings. Employers can easily promote their events to thousands of learners via the platform.
6. Experiences of Workplaces
Our software offers a joined-up approach to supporting work and career development by logging all aspects of experience with employers and allowing learners to record their full journey.
7. Encounters with Further and Higher Education
We can log any encounters with further and higher education providers, including levels of engagement.
8. Personal guidance
Using a simple reporting system for each learner, we record in-depth careers guidance, reviews and interventions throughout their work placement journey.